All Common Ground leaders, teachers, and facilitators follow Common Ground's Ethical Standards for Harmonious Community Life.
Staff
Guiding Teacher
Mark Nunberg
Mark began his practice in 1982 and has been teaching meditation since 1990. He co-founded Common Ground Meditation Center in Minneapolis in 1993 with Wynn Fricke and continues to serve as the center's Guiding Teacher. Mark has studied with both Asian and Western teachers and finds deep inspiration in the teachings of the Buddha. Mark practiced as a monk for five months in Burma and completed four three-month retreats at Insight Meditation Society Retreat Center, as well as many months of intensive retreat practice at The Forest Refuge. Mark continues to be a grateful student of Buddhist practice.
Associate Director
Shelly Graf
Shelly has been practicing at Common Ground since 2003. They are currently being trained by Insight Meditation Society as part of the four-year teacher training program. They are a staff dharma teacher, like Mark Nunberg, the Guiding Teacher. Currently they teach a variety of programs at the center including co-leading residential retreats with Mark Nunberg and Wynn Fricke. Shelly's administrative role involves partnering with the Guiding Teacher to develop and clarify the center's vision, policies, and priorities. In addition, they take the lead role in overseeing what programs are offered at the center. Professionally, Shelly has been a clinician and administrator in the Social Work and mental health fields since 2005. They have a special interest in waking up to whiteness as part of this total path of awakening. Whatever Shelly's role may be, they will always be a grateful student of Buddhist Practice first.
Office Manager
Gabe Keller Flores, gabe@commongroundmeditation.org
Gabe is in charge of the day-to-day operations of the center, including volunteer coordination, communications support, and program support.
Gabe is a dedicated dharma practitioner, having spent about one year of his life doing intensive retreat practice. He's been practicing at Common Ground since 2008, and his appreciation for the dharma continues to deepen. Gabe is also a teacher at the center, currently leading the teen group, the retreat for millenials, and subbing for the Weekly Practice Groups.
Bookkeeping Manager
Gail Iverson, bookkeeper@commongroundmeditation.org
As bookkeeper, Gail is in charge of ensuring that all donations are recorded and deposited properly and that the center's bills are paid. The bookkeeper also sits on the Finance Committee, which does budgeting and oversees the financial health of Common Ground.
Gail has been practicing mindfulness meditation since 1987 and practicing at Common Ground since 2002. Her first volunteer position was being in charge of the bulletin board at the previous building. Since then, she has been an integral member of our community and served in many important roles. She was chair of the Board of Directors for 6 years. She currently is part of the Operational Team for Common Ground's retreat property in Wisconsin. She also is one of our main teachers and has led the Intro to Mindfulness Meditation workshop for many years.
Board of Directors
Stacy McClendon has been a Common Ground community member since 2006. She is a dedicated practitioner and has spent more than 100 days on silent intensive retreat practice. She now serves as the Chair of Common Ground's Board of Directors and on our Advisory Committee on matters of equity and accessibility. She is a graduate of Common Ground's Dharma Leadership Training, and has been supported and encouraged by Guiding Teacher Mark Nunberg to teach locally, including the POC sangha at CG which she co-founded, co-leading retreats for people of color, community based offerings, and as part of the teaching team for our Living the Practice workshops.
contact Stacy and the board via board@commongroundmeditation.org
Ramesh Sairam, Vice-Chair
I have been part of the Common Ground sangha since 2006 and joined the Board of Directors in 2016.  I am a Geriatric psychiatrist and have a deep professional interest in understanding the complex and dynamic interplay between our minds and bodies that often underlie many physical and mental health illnesses.  My spiritual practice too is guided by the Bu
ddha's advice about the deep wisdom inherent in our bodies – 
"within this very fathom-long body, with its perceptions and inner sense, lies the world, the cause of the world, the cessation of the world and the path that leads to the cessation of the world."  
I share some of my experiences through workshops at Common Ground on mindfulness and chronic pain, and finding wisdom in our bodies.
I am drawn to Buddha Dharma by the simplicity and universality of its message, and its focus on practice and self-reliance, without the compulsion to believe specific creeds or dogmas.  I especially value the importance given to ethical conduct, compassion and generosity.
scottie hall, Director
Dave Halsey, Treasurer
I have been practicing meditation and studying the Dhamma at Common Ground since 2007.  I am a regular participant in the Buddhist Studies program, where I frequently serve as program host.
The fo
cus of my current meditation practice is sustaining awareness of the interconnectedness of all beings through loving-kindness, and the present-moment calm that results from this realization.
I appreciate the many opportunities for retreat practice at Common Ground, including in-center retreats, residential retreats at Holy Spirit, and I am especially grateful for retreat practice at Common Ground's Prairie Farm.
I have served on the Common Ground Board of Directors since 2015, and previously served on the Board's Finance Committee. Additionally, I have supported the development of Common Ground's Prairie Farm retreat property by leading the Planning Committee, and serving as the Board liaison for the Prairie Farm leadership team.
I am married, and have two young adult sons.  In early 2015 I retired from Fraser, a nonprofit social service agency. (August 2015)
Gabe Keller Flores, Secretary
I have been coming to Common Ground since 2008, when I was in high school and stumbled across the teachings of the Buddha. Since then, I have been a dedicated practitioner and have experienced increasing freedom and connection in my life.
I'm very excited to see more young people deepen their practice and engagement with Common Ground. I'm also very excited by the community's deepening commitment to exploring issues of cultural conditioning and inclusivity. I think the context of our practice of mindfulness and compassion is perfect for exploring and healing the painful ways we create separation around difference.
I view being a Common Ground board member as a great honor and as an opportunity to give back to a community that has given me so much. (August 2015)
Mark Nunberg, Guiding Teacher
Find out more about our Ethics and Reconciliation Council (EAR).
Annual Board Reports
Annual treasurer letter to the community summarizing 2019 as well as a more current summary of the center's financial status.
Minutes from past board meetings
Advisory Board
Steve Armstrong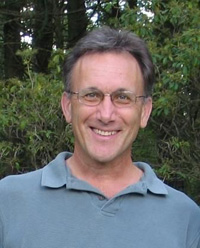 Steve has studied the dhamma and practiced insight meditation since 1975. He served for many years at the Insight Meditation Society in Massachusetts as Executive Director, Board member and senior teacher of the annual three month retreat. As a monk in Burma for 5 years, under the guidance of the late Sayadaw U Pandita, he undertook intensive, silent practice of insight and lovingkindness meditations and in Australia, he studied the Buddhist psychology (abhidhamma) with Sayadaw U Zagara. He continues his practice under the guidance of Sayadaw U Tejaniya at the Shwe Oo Min Meditation Center in Rangoon. Steve is a co-founding teacher of the Vipassana Metta Foundation's dharma sanctuary on Maui. He has been leading meditation retreats internationally since 1990, presenting the core teachings of the Buddha; and offering a variety of Buddhist mindfulness practices, encouraging cultivation of insightful awareness, and liberating understanding in all life activities. He encourages spiritual development of an unshakeable sense of well-being. On Maui he plants trees for a dhamma sanctuary and directs the Burma Schools Project building schools and clinics in Burma and supporting monastics and nuns.
James Baraz
James has been a meditation teacher since 1978, and currently leads retreats, workshops and classes in the U.S. and abroad.  He is the creator and teacher of the Awakening Joy course (since 2003).   He is a Co-founding Teacher of Spirit Rock Meditation Center in Woodacre, CA.  He is the Co-author of Awakening Joy, the book based on the course
(with Shoshana Alexander).  He is a Guiding Teacher for One Earth Sangha, a website devoted to expressing a Buddhist response to Climate Change.  James lives in Berkeley, California with his wife, Jane and has two sons and three grandchildren.
Joseph Goldstein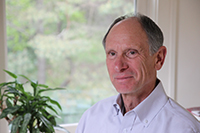 Joseph has been leading insight and lovingkindness meditation retreats worldwide since 1974. He is a cofounder of the Insight Meditation Society in Barre, Massachusetts, where he is one of the organization's guiding teachers. In 1989, together with several other teachers and students of insight meditation, he helped establish the Barre Center for Buddhist Studies.
Joseph first became interested in Buddhism as a Peace Corps volunteer in Thailand in 1965. Since 1967 he has studied and practiced different forms of Buddhist meditation under eminent teachers from India, Burma and Tibet. He is the author of Mindfulness: A Practical Guide to Awakening, A Heart Full of Peace, One Dharma: The Emerging Western Buddhism, Insight Meditation: The Practice of Freedom, The Experience of Insight, and co-author of Seeking the Heart of Wisdom and Insight Meditation: A Correspondence Course.
Kamala Masters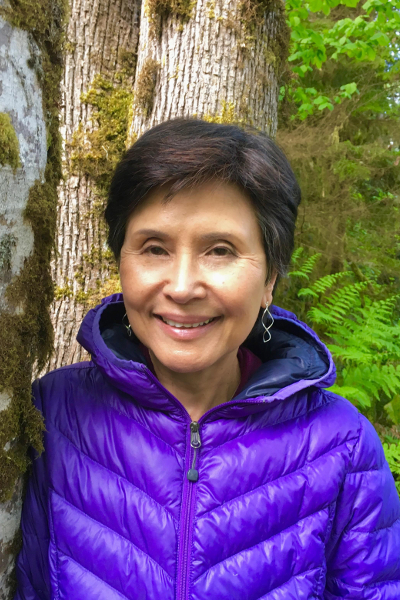 Kamala is one of the founders and teachers of the Vipassana Metta Foundation on Maui. She teaches retreats in the Theravada tradition at venues worldwide, including being a Guiding Teacher and member of the Board of Directors at the Insight Meditation Society at Barre, Massachusetts. Practicing since 1975, her teachers have been the late Anagarika Munindra of India and the late Sayadaw U Pandita of Burma, and Sayadaw U Tejaniya of Burma with whom she continues to practice. Kamala has a commitment to carrying and offering the purity of the teachings of the Buddha in a way that touches our common sense and compassion as human beings, and allows the natural inner growth of wisdom. She lives on Maui where she raised four children, and is now blessed with five grandchildren. Kamala practiced both insight and loving kindness meditations intensively under the guidance and preceptorship of Sayadaw U Pandita, in the USA, Australia and in Burma as a nun and a lay woman.